---
Zinc and Zinc Free Products
---
---
POWDER PRIMER
---
Anticorrosive Primer
EE Primer GREY PRIMER
Product details
Product name

Anticorrosive Primer EE Primer GREY PRIMER

Product code

EE10007000123

Gloss / 60°

12± 5

Product category

Anticorrosive Primer

Surface finish

EXTRA MATT SMOOTH

Product features

Anticorrosive Zinc free primer offering excellent corrosion protection on steel and aluminium substrates.

Powder properties

Good mechanical properties

Excellent corrosion protection

Excellent chemical resistance

Colour description
GREY PRIMER
Curing condition
10 min @ 180°C
---
Anticorrosive Primer
ZF ZeroZinc STEEL PRIME
Product name

Anticorrosive Primer ZF ZeroZinc STEEL PRIME

Product code

ZF90017192420

Gloss / 60°

90± 10

Product category

Anticorrosive Primer

Surface finish

GLOSS SMOOTH

Product features

Alesta® ZeroZinc anticorrosion primers are formulated using High Density Crosslinking (HDC) technology. The technology enhances the barrier effect of the primer, creating a completely sealed coating that isolates the substrate from its environment. Certified by Qualisteelcoat.

Powder properties

Excellent mechanical properties

Excellent chemical resistance

Outstanding corrosion protection

Approvals

Colour description

STEEL PRIME

Curing condition

7 min @ 140°C
---
Anticorrosive Primer
ZN Zinc GREY
Product details
Product name
Anticorrosive Primer ZN Zinc GREY
Product code
ZN70017085921
Gloss / 60°
70± 10
Product category
Anticorrosive Primer
Surface finish
SEMI GLOSS SMOOTH
Product features
Anticorrosive Zinc containing primer offering optimum corrosion protection on steel substrates.
Powder properties

Excellent mechanical properties
Excellent chemical resistance
Outstanding corrosion protection

Colour description
GREY
Curing condition
15 min @ 150°C
---
Anticorrosive Primer
EP Primer FUNCTIONAL PRIME
Product details
Product name
Anticorrosive Primer EP Primer FUNCTIONAL PRIME
Product code
EP90017275721
Gloss / 60°
90± 5
Product category
Anticorrosive Primer
Surface finish
GLOSS SMOOTH
Product features
Anticorrosive Zinc free primer offering good corrosion protection on steel and aluminium substrates.
Powder properties

Good mechanical properties
Good corrosion protection
Good chemical resistance

Lead time
24 h
Colour description
FUNCTIONAL PRIME
Curing condition
7 min @ 180°C
---
Anticorrosive Primer
ZF ZeroZinc EDGE PRIME
Product details
Product name

Anticorrosive Primer ZF ZeroZinc EDGE PRIME

Product code

ZF00017121720

Gloss / 60°

3,5± 1,5

Product category

Anticorrosive Primer

Surface finish

EXTRA MATT SMOOTH

Product features

Alesta® ZeroZinc anticorrosion primers are formulated using High Density Crosslinking (HDC) technology. The technology enhances the barrier effect of the primer, creating a completely sealed coating that isolates the substrate from its environment. Certified by Qualisteelcoat.

Powder properties

Excellent mechanical properties

Excellent chemical resistance

Outstanding corrosion protection

Approvals

Colour description

EDGE PRIME

Curing condition

12 min @ 180°C
---
ANOPRIME
Sold in 5ltr drums (shake very well before use.)
Anoprime is the only waterborne primer specifically formulated for use under powder coating. It is applied to metal substrates using an air-assisted spray gun, allowed to air dry for about 15 minutes after which an industrial powder coating is applied followed by a baking process.
The Anoprime primer, being a water-based material, is an environmentally friendly type of product having a "volatile organic compound" (VOC's) factor of less than 20 gms/litre. (Guidelines indicate that 480gms/litre are acceptable until European legislation dictates otherwise).
Another important feature of Anoprime is that it contains no chromates. This is because we considered early on during its R & D stages that the health and safety of the operator applying the material was just as important as the environment.
Anoprime contains non-toxic anti-corrosion pigments which is the reason that the product has such outstanding weathering properties, i.e.1000 hrs ASTM B117 & ASTM G85. The choice of resin system has resulted in exceptional adhesion to ferrous & non-ferrous metals.
| | |
| --- | --- |
| Feature | Benefit |
| | |
| Low VOC's | environmentally friendly |
| Thins with water | saves on solvent costs |
| Low odour | improves working environment |
| Non-flammable | lower insurance premiums |
| Economic | applied at 10-12 micron film weight |
| One bake system | economical |
| 100% compatible with water | equipment and spills can be cleaned with tap water |
| Non-toxic anti corrosive pigments | helps to comply with health and safety legislation |
Feedback from customers using ANOPRIME suggests that many operations they had to perform prior to applying the powder coating finish have either become obsolete or have been considerably reduced i.e. coating of galvanized substrates and aluminium castings.
We are still surprised by the ingenuity of our customers as we understand that when a colour change of a finished item is desired or for the refurbishment of damaged goods Anoprime removes the need for shot blasting or stripping by use of corrosive and/or dangerous liquids.
Certain colours in powder coating (reds and yellows) are now offered as heavy metal free but have the undesired property of poor opacity. Metal substrates that have a coat of Anoprime appear to exhibit improved opacity of the cured powder film when applied at the same film weight.
Anoprime will also improve the efficiency of powder coating by overcoming the "Faraday Cage" effect.
Anoprime ASTM B117
Images of panels coated in a Qualicote approved Polyester Hipca White
subjected to 1000 hours ASTM B117.
Powder applied over
Bare Metal
Rust 10 Blistering n/a Delam 10

Powder applied over
Iron Phosphate
Rust 10 Blistering n/a Delam 10

Powder applied over
Zinc Phosphate
Rust 7 Blistering 0 Delam 0

Powder applied over
Anoprime
Rust 5 Blistering 0 Delam 0
---
---
C-721 MORDANT SOLUTION (t-wash)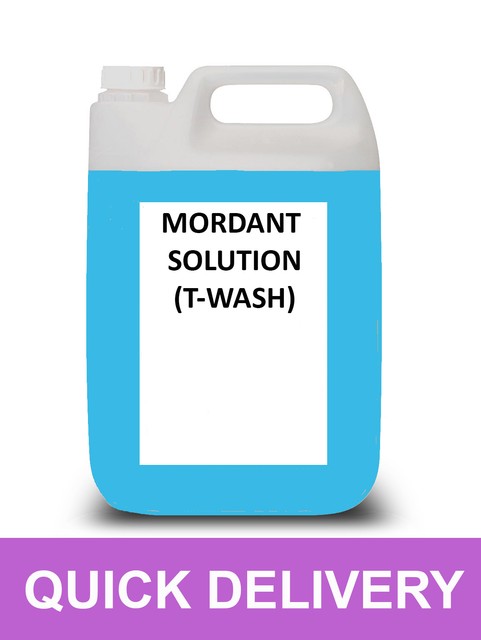 Sold in 5ltr and 25ltr drums.
PRODUCT INFORMATION
Prepares New Galvanised Metal
Chemically Etches Galvanised Surfaces
Water-Based Product
Typical Use;
Suitable for use on new galvanized metal.
Colour Range ; Blue Colour in container.
SURFACE PREPARATION
To get the best results, ensure surfaces to be painted are sound, clean and dry (new surfaces particularly must be fully dry) and free from all defective or poorly adhering material such as dirt,grease and wax.
De -Grease where necessary with a suitable oil and grease remover. Rinse with clean water to remove residues.
APPLICATION INFORMATION
Apply a liberal coat of Mordant Solution by brush and allow to dry. If the surface ails to turn black overall, the most likely cause is contamination of the surface or the presence of a factory applied pre-treatment. Rinse the surface
thoroughly and abrade, using a suitable abrasive paper. Remove all residues and re-apply, Avoid over-application as pooling of the wash will result in the formation of a fine brown deposit of copper.
After treatment the surface must be rinsed with clean water to remove all residues and then allowed to dry before priming.
The pre-treated surface should be over coated with an appropriate metal primer within 48 hours or before contamination can recur.
APPLICATION METHOD
Brush only. Do not spray.
Practical Coverage
10 meters squared per liter
---
ETCH PRIMER BLACK
Quick drying pigmented primer
All recommendations made and information supplied are to assist customers, they do not infer any legal warranty or liability.
PRODUCT DESCRIPTION
Etch Primer Black is a single pack pigmented primer based on phenolic-modified polyvinyl-butyral resin.
Ferrous and non-ferrous substrates may be treated and it is particularly suitable for application to shotblasted
steel surfaces.
The product may be applied by brush, dip or spray and is supplied at brushing viscosity. Brushing is
recommended only on small areas.
Metal surfaces coated with Etch Primer Black may be flame cut or welded without affecting weld strength.
Spot welding is more difficult due to the increase in electrical resistance.
No charring, blistering or peeling occurs outside of the immediate area during welding and only a local
touch-in is required to protect the welded area.
Etch Primer Black is totally free of chromate containing pigmentation.
Total Page Visits: 1421 - Today Page Visits: 2